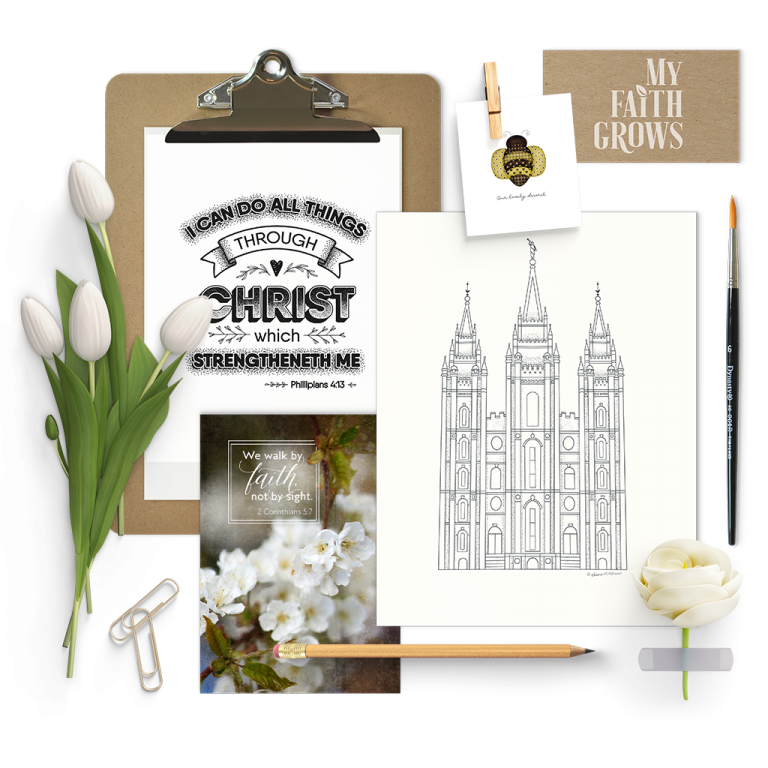 act on your own creative inspiration!
Only you have access to the inspiration you need to best serve in your circle of influence. My Faith Grows is filled with resources you can use to act on that inspiration, together with opportunities to develop your own divine creative skills.
Coloring Pages
Our simple line art makes ideal coloring pages for all ages.
Templates
Easy-to-customize worksheets, handouts, programs, invitations . . .
Printables
Full-color artwork, workbooks, and forms ready to print and use.
Let's Be Newsletter Buds!
Sign up for exclusive freebies in your inbox.
Every month or so I'll visit your inbox with an update on My Faith Grows and a little gift just for you. Because that's what friends do. Let's start with this fun bookmark with tons of ideas that you can use to illustrate your scriptures!
Newest Temple Coloring Pages


"Them hath he filled with wisdom of heart, to work all manner of work, of the engraver, and of the cunning workman, and of the embroiderer, in blue, and in purple, in scarlet, and in fine linen, and of the weaver, even of them that do any work, and of those that devise cunning work."
It's easy! These step-by-step videos walk you through simple ways you can customize our coloring pages and use them in creative ways for different projects!
"Neglect not the gift that is in thee, which was given thee by prophecy, with the laying on of the hands of the presbytery."